Introducing Aventos HK top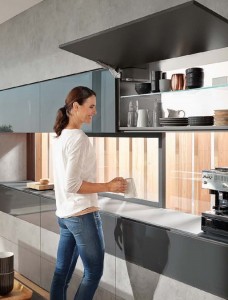 AVENTOS HK top – Stay Lift
▀ Closes silently and effortlessly with BLUMOTION
▀ No hinges necessary
▀ Can handle door thickness ranging from 8 – 30 mm
▀ Lifts the single front upwards making it well-suited for the lift systems in
wall cabinets with cabinets above
▀ Lift mechanism with positioning template means no measuring required  
▀ Integrated angle restriction between 75° and 107°
▀ Lift mechanism adjustment from the front without removing the cover cap
▀ Face frame adapter plate available
TIP-ON for AVENTOS
A perfect solution for handleless lift applications. TIP-ON mechanical
support system makes opening doors effortless.
▀ Available for AVENTOS HK top, HK, HK-S and HK-XS applications only
▀ Easy to open with just a light touch
▀ Closes securely by manually pushing
Call your Alpine Plywood Sales Rep for more information!